Tips for how to match pochette
How can you match pochette?
The pochette is the most popular bag of the latest trends in the sector of fashion, without a doubt.
Do you want to know how to match them from morning to night and always be fashionable?
It is, undoubtedly, the bag of the moment, the queen of catwalks of the world in its major glory moment.
It is very easy to match the pochette, but the important thing is to know very well on which occasion you want to show this little bag. 
However, often, when women need to go to an event, like a dinner or a special occasion, the bag is the last thing they take into account.
They think first about the dress, shoes, makeup, but the bag is always a difficult choice.
But, it is often the best detail to complete any outfit.
How to match a pochette for the day or the evening
If you want to show your pochette during the day, the ideal pochette to use is characterized by soft lines.
Indeed, a classic work looks with tailleur is perfect to match to pochette, especially when we talk about a larger model.
It is also ideal for keeping necessary things to do a last-minute purchase, have dinner, or for an urgent date.
Every casual but stylish look fits the style of a pochette in soft colors. For instance, jeans, a white shirt, and a blazer oversize are ideal for an afternoon walk or for drinking a coffee with friends along the streets of the city center.
You will always show an elegant and dynamic look, having with you all the necessary you need.
For the appetizer, you can choose a dress change and render your look more aggressive.
For example, a pair of boots and a leather jacket are perfectly matched to a casual pochette in soft colors.
Similarly, for the summer, an appetizer by the sea with a light dress or a colored kaftan will make you carry with pride your new Eliem pochette.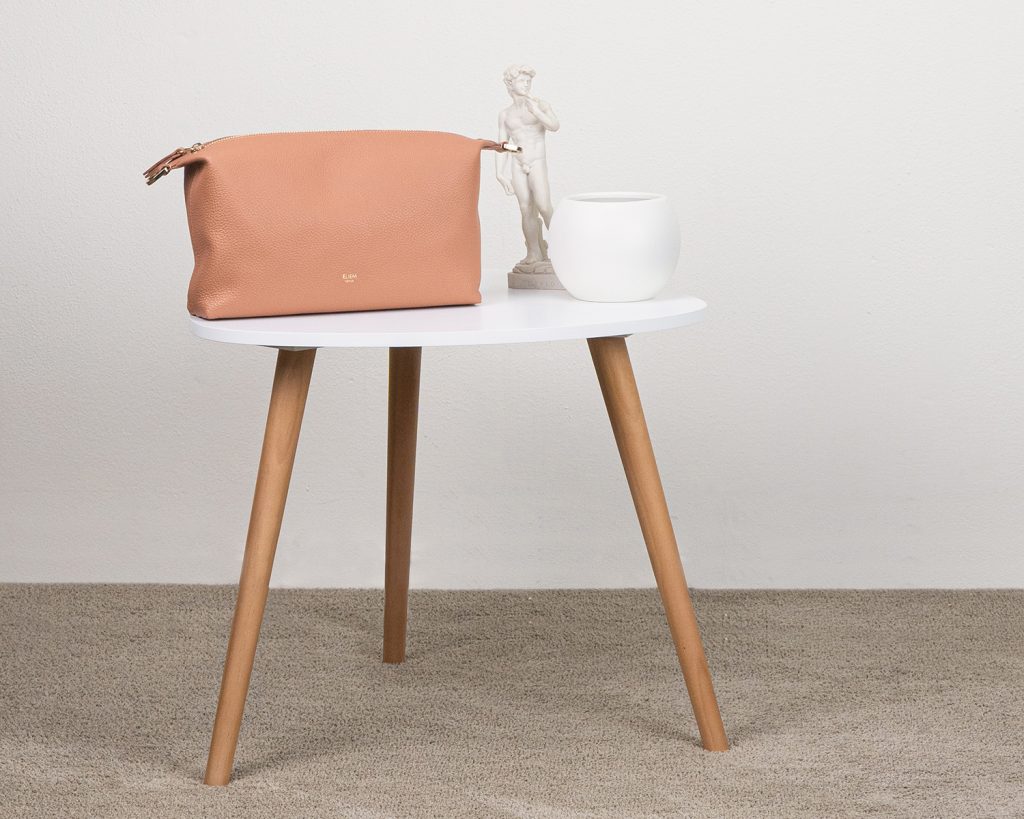 The pochette for the evening and great events
The main word for the pochette, during the evening or great events, is "smalls".
In addition, they complete the look, you can carry them with confidence and they can keep all the things you could need.
We can say that they are almost real clutch to carry by hand, like carrying a jewel.
For a casual evening, a long skirt, an embroidered top, and a jeans jacket will be ideal for your mini pochette.
You can, also, use the same option for an elegant evening where a long dress is mandatory.
To add a touch showier you could opt for a jewel sandal or a colored shoe.
The pochette of Eliem
There are two type of Eliem pochette, namely pochette and pochette small.
The first model (pochette) is perfect to put into Agata, and by doing this you can change the configuration of the bag quickly, always taking with you essential things. 
The second one is a compact and stylish model, with a particular size, which has the aim to simplify and render even more versatile the use of the pochette. In addition, its color is pearl grey. 
Both are handmade by expert craftsmen of Made in Italy and they have an interior pocket with a zipper.
You can keep them by hand, arm, or on your shoulder, depending on the occasion.
Even though the pochette is small or medium-size, it will always be an essential accessory in your closet.